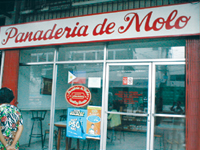 Panaderia de Molo is more than just a bakeshop. Its name is embedded in the history of Iloilo, making it a witness to some of the most important events in the Molo district. Dr. Kristine Sanson-Treñas, the fourth generation owner of Panaderia de Molo, tells the colorful story of this antediluvian bakeshop.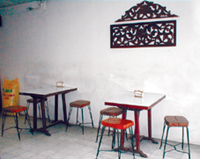 In the later part of the 19th century, five spinsters put up Panaderia de Molo whose sole heir was Dr. Treñas' grandmother. "My great grandmothers might have started formulating things during their idle times in the afternoon," Dr. Kristine reveals the conception of the bakeshop.

History would tell us that in the 1800's, the masons would use egg whites to cement the bricks of the walls of the churches they were building. So as not to waste the rest of the egg, women would make cookies out of them. When women gave birth to that idea, Panaderia de Molo was also born. Although we cannot deny the fact that most of what we see in the panaderia has a lot of Spanish flavor to them (with the recipes having been handed down by Spaniards to the women during the Spanish colonization) we can still consider these creations as somehow Ilonggo originals since it was the Ilonggas who molded, baked and made them popular. For something whose popularity retains for more than a century, it must really be very special, for even songs sometimes fade away with time.
Panaderia de Molo has three branches in Iloilo City. The original bakeshop used to be in the Sanson's ancestral house in Molo, Years ago, the family decided to move it to a street side area where it is more convenient for clients. The other two branches can be found in Jaro and Rizal St. fronting the University of Iloilo. Galletas is considered one of Panaderia de Molo's best sellers. It has the kind of taste that makes you want more and more of it. Read more
Article and photos courtesy of

Text and photos by Jinki Beldia
The News Today
Clockwise, from topmost right:
kinihad, bañadas, barquillo
s, galletas, kinamonsil, biscocho prinsipe
Panaderia de Molo's assorted biscuits are packaged in either the tin round cans or in small boxes, with the various biscuits packed in individual plastic packs.
Kinihad are thin slices of toasted bread, great for dipping into coffee or hot chocolate, and would benefit greatly from a spread of sweet jam and butter. They are like biscochos without the baked in butter and sugar on top.
Bañadas are soft round cookies glazed with sugar icing, which reminds me of something similar in Pangasinan, and which made the late food doyen Doreen Fernandez wax sentimental over the local bakery treats in her hometown of Silay City.
Of course who doesn't know
barquillos
, called
apas
elsewhere (but is different from the thin
apas
of the Tagalog region), the long tubes of rolled wafer-thin biscuits of our childhood that have evolved into the present chocolate-marbled and -filled Stikkos? This barquillo was coconut-flavored, and it was delicious without cloyingly sweet. It ranks among my other
barquillo
favorites - the ube and pandan flavored ones from Biscocho Hauz, also in Iloilo City.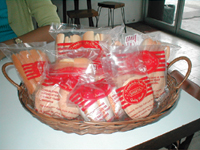 Panaderia de Molo's galletas are one of a kind - not like the dry, chalky Luzon galletas that are choking hazards - they are crispy, thin as an unrolled barquillo, and more like a crunchy communion host. Very close to the apas of the Southern Tagalog region, but with the characteristic chalky taste.
Kinamonsil ape the shape of a kamonsil or camachile (Pithecellobium dulce, known among international tropical plant enthusiasts as Manila Tamarind) with its decorative form. I rather like my province's own camachile biscuit, though, as i t is not as hard and sweeter.
The one I like best among the lot, besides the
hojaldres
and are akin to
otap
but are not as flaky and softer, are easily the
biscocho prinsipe
. I like Ilonggo
biscocho
(and not the Ilocano
biscocho
), but I love
biscocho prinsipe
. The qualification
prinsipe
(prince) is a deserving adjective - it is indeed a royal biscuit. It isn't even a
biscocho
, it is more like a slice of dried butter pound cake - crumbly, buttery sweet, finger-licking good. It needs nothing else.
Read more ...
Photo and article courtesy of
Bucaio |

Tinapay: Iloilo Delicacies By Way of Bacolod